That's what a ride like yesterday's can do to you.
Here is part of our group chilling in a place with no views and little visibility.
All pictures are courtesy of
Pisgah Productions
. Thanks
Eric
!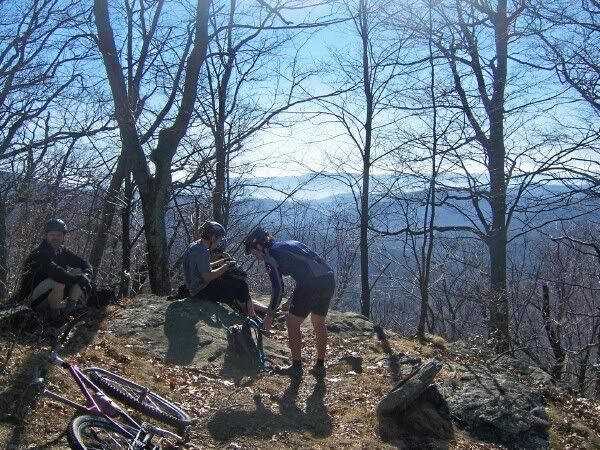 Any weekday spent in the woods is a good one, however today was off the charts!
I was up by 6:00, I bid my family adieu as they were headed home to Indianapolis Indiana, dropped my Father off at GSP and headed to the mountains for some fun in the sun.
The morning was crisp and there was a light layer of frost still on the ground when I pulled up at the Horse Stables. Joe was there waiting, punctual as always. I don't know if that guy has ever been late for a mountain bike ride.
We chatted while our group slowly amassed to be myself, SingleTrack Pig,
Eric
, Erinna, Dieriden, D-Kuntz, Clellan and Clay leaving from the Stables.
Our route:
Clawhammer, Black Mountain, Buckhorn, Bennet, 477, Clawhammer, Maxwell Cove, Black Mountain, Grassy Road, Sycamore Cove, back to the cars.
I was excited about the route because I had never ridden Bennet or Buckhorn.
Clellan took off on the climb and after the two E's showed up, we made our way up Clawhammer.
Clawhammer is a four mile climb that pitches up pretty steep in spots. Eric and I chatted it up on the beginning of the climb. We were talking about big bikes and large jumps since we own quite the opposite of the spectrum.
Once we made it to the top of Clawhammer we took a short break before climbing the steeps of Black Mountain to get to Buckhorn. About a minute after we showed up, Scott from Indianapolis rolled up via Buckhorn or formerly known as "the other side" of the mountain. Just yesterday I had left him a note on
MTBR
that said exactly this:
Rideorsit,I can't guarantee that we will be able to meet up as plans change frequently with this group. If you want to try and meet us at the top of Clawhammer, go for it!We will probably start climbing around 10:00, so however long it takes us to climb the hammer is when we will be there. Good Luck.
Here is a picture that Eric snapped right as we discovered our luck.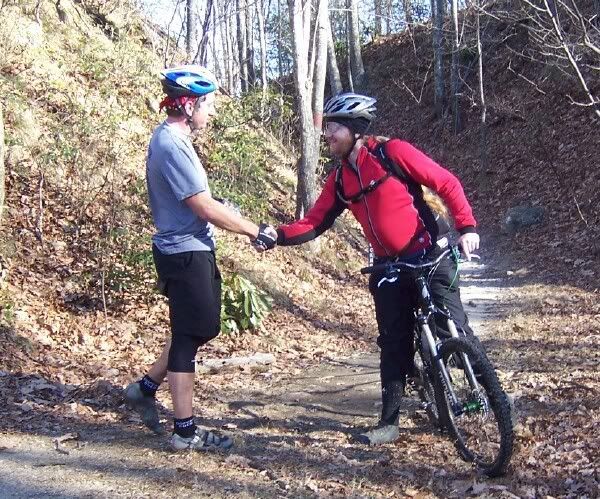 Wow my pessimism and a little trail karma goes a long way. Scott owns Indy Bikes in Indianapolis. I will have to check that store out next time I am in town.
Joe mastering the gears, he made some great climbs yesterday.

We continued on, now 9 riders strong headed toward virgin trail in my mind. Buckhorn and Bennet were a ton of fun. There are some creepily techy spots that I both hiked and biked. Eric was doing a great job of cleaning tech sections on his Fully Rigid while others with gears and suspension just gazed by in awe.
Jody and I, pushing up the steeps.

The last section of Bennet really got me smiling as we flew down the hill with numerous drops and speeds fast enough to forget about all else except the flow of your bike across the dirt.

We were spit out onto 477 and we headed up to the car for a quick break. We dropped Jody, Eric, Erinna, and Scott and headed up Maxwell Cove for some Black Mountain fun. The climbs were starting to get tough but with the sun shinning through we just kept grinning and pushed on.

We sped down Black Mountain and continued onto Sycamore Cove. After a short break, I was able to hammer the SS up the climb on Sycamore and then we cruised down.

It was an awesome day. No mechanicals out of 9 people on MTBR group ride. Wow!

We got in about 25 miles in 5 hours. Not bad at all considering it was a leisurely pace.